Guidance for the big picture
and finer details
A PLAN CRAFTED
just for you
Our connected and collaborative approach is thoughtfully guided with your best interests in mind. The financial decisions we help you make aren't solely about your investments, they are about your life.
Since there are many details we'll address together, we will employ an established process to personalize a financial plan just for you and create a framework for making collaborative decisions – applying not only our own insight, but also those of your tax and legal advisors, as well.
Even after we implement your plan, our guidance continues. We'll be here along the way to monitor the progress and make any needed adjustments that come from any changes in your personal life – all to keep you on track and aligned with your goals.
Summing up the steps we'll take together:
We'll build an understanding of what's important to you and why – and where you want to go in life. Essentially, your goals become ours, and inspire us to help you get there.

We'll carefully consider the knowledge we've gained by learning about you to design your plan, then present it to you and answer any questions you may have.

Once we know you're comfortable with your plan and understand how it works, we'll implement it, select the specific investments and handle all the paperwork.

We'll look out for you by continually monitoring the progress of your plan to make sure it stays on track, and suggest any changes where needed.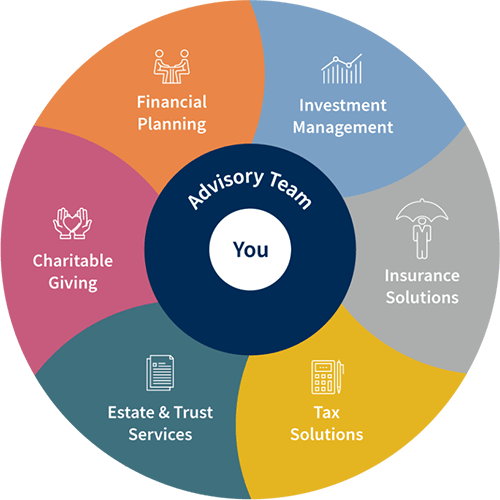 Sophisticated wealth management
THRIVE Private Wealth

Suite 4100, 525 - 8th Ave SW

Calgary, AB T2P 1G1
Website legal disclaimers
Raymond James Ltd. is an indirect wholly-owned subsidiary of Raymond James Financial, Inc.
Securities-related products and services are offered through Raymond James Ltd., member Canadian Investor Protection Fund.
Insurance products and services are offered through Raymond James Financial Planning Ltd, which is not a member Canadian Investor Protection Fund.
Raymond James Trust Services are offered by Raymond James Trust (Canada) in the provinces of British Columbia, Alberta, Saskatchewan, and Ontario, and by Raymond James Trust (Québec) Ltd. in the province of Québec. Both entities are wholly owned subsidiaries of Raymond James Ltd. Trust Services are not covered by the Canadian Investor Protection Fund. Use of the Raymond James Ltd. website is governed by the Web Use Agreement | Client Concerns.
Raymond James (USA) Ltd. All rights reserved.
Raymond James (USA) Ltd. advisors may only conduct business with residents of the states and/or jurisdictions in which they are properly registered. Investors outside the United States are subject to securities and tax regulations within their applicable jurisdictions that are not addressed on this website.
Raymond James (USA) Ltd. is a member of FINRA/SIPC.




This website may provide links to other internet sites for convenience of users. Raymond James (USA) Ltd. is not responsible for the availability of content of these websites, nor does the firm endorse, warrant or guarantee the products, services, or information described or offered by these other internet sites. Users cannot assume that these websites will abide by the same Privacy Policy that Raymond James (USA) Ltd. adheres to.
Please click on the link below to stay connected via email.
*You can withdraw your consent at any time by unsubscribing to our emails.