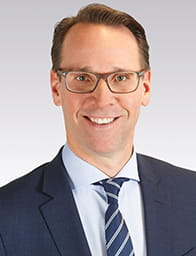 Tyler Hahn
Estate Planning Advisor, Raymond James Ltd.
Professional Experience
Tyler Hahn joined Raymond James Financial Planning as an Insurance and Estate Planning Advisor in September 2018.
Since 2000, Tyler has been involved in various roles throughout the financial services industry, from banking and investments to financial planning and insurance. What has become clear through every role he has played is his desire to ask engaging questions, to listen intuitively and to develop logical solutions.
Having spoken to thousands of people over his career, Tyler is a strong public speaker who has presented to large national conventions, to executive boardrooms, and to families around the kitchen table.
Professional and Personal Commitments
Tyler is licensed to conduct business in British Columbia, Alberta, Saskatchewan, Manitoba and Ontario and has been a holder of the Certified Financial Planning designation since 2004. He remains committed to education and is actively involved through industry advocacy groups which allow him to keep up to date with industry news and trends.
Tyler is a native southern Albertan and resides in Calgary with his wife and two daughters.
During his free time, he can be seen occasionally walking the golf course or cycling his way to work on weekdays and the backroads on the weekends. Other areas of interest include hiking and very amateur wood working – you need to leave something to enjoy for retirement!
My primary goal is to help people identify objectives that are important to them and to assist in the development of a plan to ensure that those objectives are realized.
Sophisticated wealth management
THRIVE Private Wealth

Suite 4100, 525 - 8th Ave SW

Calgary, AB T2P 1G1
Website legal disclaimers
Raymond James Ltd. is an indirect wholly-owned subsidiary of Raymond James Financial, Inc.
Securities-related products and services are offered through Raymond James Ltd., member Canadian Investor Protection Fund.
Insurance products and services are offered through Raymond James Financial Planning Ltd, which is not a member Canadian Investor Protection Fund.
Raymond James Trust Services are offered by Raymond James Trust (Canada) in the provinces of British Columbia, Alberta, Saskatchewan, and Ontario, and by Raymond James Trust (Québec) Ltd. in the province of Québec. Both entities are wholly owned subsidiaries of Raymond James Ltd. Trust Services are not covered by the Canadian Investor Protection Fund. Use of the Raymond James Ltd. website is governed by the Web Use Agreement.
Raymond James (USA) Ltd. All rights reserved.
Raymond James (USA) Ltd. advisors may only conduct business with residents of the states and/or jurisdictions in which they are properly registered. Investors outside the United States are subject to securities and tax regulations within their applicable jurisdictions that are not addressed on this website.
Raymond James (USA) Ltd. is a member of FINRA/SIPC.

This website may provide links to other internet sites for convenience of users. Raymond James (USA) Ltd. is not responsible for the availability of content of these websites, nor does the firm endorse, warrant or guarantee the products, services, or information described or offered by these other internet sites. Users cannot assume that these websites will abide by the same Privacy Policy that Raymond James (USA) Ltd. adheres to.
Please click on the link below to stay connected via email.
*You can withdraw your consent at any time by unsubscribing to our emails.